1. What is a baby registry?
2. How does a baby registry work?
3. What are the benefits of a baby registry?
4. When should I make my baby registry?
5. Where do I make my baby registry?
6. Is it wise to register in more than one place?
7. What should I put on my baby registry list?
8. What shouldn't I put on my baby registry list?
9. When should I make my baby registry public?
10. Can I still build a baby registry during the Covid-19 pandemic?
11. Are there any baby registry must haves?
1. What is a baby registry?
Moms-to-be will almost certainly know this already, but just in case, a baby registry is a wish list of baby items that parents-to-be would like to receive as gifts from their family and friends.
2. How does a baby registry work?
Whether you choose a local store or an online retailer, the process of setting up a baby registry is more or less the same: you pass on your details and, in return, they'll provide you with a code (or similar) to share with your family and friends.
3. What are the benefits of a baby registry?
They're the perfect way of ensuring you have everything you need for when your baby arrives. And even if you feel a little presumptuous in setting one up, your friends and family will almost certainly be grateful for the guidance.
"I'm from the UK originally, so the idea of a baby registry was new to me. I found it a little overwhelming at first, but after asking advice from a few close 'mom' friends, I soon got into the swing of it. Ultimately, it's a great way of keeping track of what you need (rather than the crumpled post-it notes I usually rely on)."
4. When should I make my baby registry?
There's no right or wrong answer as to when you should make your baby registry. Indeed, you might choose not to make one at all. Some parents begin setting them up as soon as they receive their happy news, while others prefer to wait until after the first trimester or the 20-week ultrasound.
5. Where do I make my baby registry?
Google baby registries and you'll see that there are LOTS out there. Before you make your final choice, ask yourself what you're looking for.
Would you like one that allows you to add items from an indefinite number of stores? In which case, MyRegistry and Babylist could be right for you. Or are you more interested in the additional perks some offer, such as discounts (try Buy Buy Baby) or welcome baskets of complimentary gifts? Amazon, Target, and WalMart are all great for these. Perhaps you'd prefer to give your custom to a local store rather than a big online retailer? Or maybe you just want the one that will cause you the least fuss? (Target again rates highly in terms of ease of use!)
Doing some brief homework with the above in mind will help you whittle down the candidates, but if you don't have time – and there's a big chance that that will be the case – try asking a few trusted friends who they went with and why.

I recommend starting your registry online so you can see reviews and quickly compare products. You can always go into a store after to see things in person, add or change things. When my husband and I went into a store to start our baby registry in person before looking online we were both REALLY overwhelmed.
6. Is it wise to register in more than one place?
You can, but the multiple lists and links may get confusing. Not just for you, but your family and friends as well. If you have got your eye on lots of items from lots of different stores, we'd recommend registering with a site that allows you to add products from a variety of different retailers. There are lots out there.
7. What should I put on my baby registry list?
You can put anything (baby-related) on your list, from smaller items like WaterWipes baby wipes and bibs to big-ticket items like strollers and car seats. It's a good idea to have items with a wide range of prices, as this caters for all gifting budgets.
For any larger items, it makes sense to either seek advice from other parents or do your homework. That way you can be sure the product you're adding is right for you.
Having a gift card option is also a good idea, this way you can purchase anything you feel you're missing after the baby arrives.
"Unlike a wedding registry, there are a lot of things you may need but have no idea what they are used for...or when to use them...or of the several brands, which one is best. I relied a lot on friends' advice."
You can download our baby registry checklist to help you, which has lots of suggestions as to the types of things you might need/want on your list.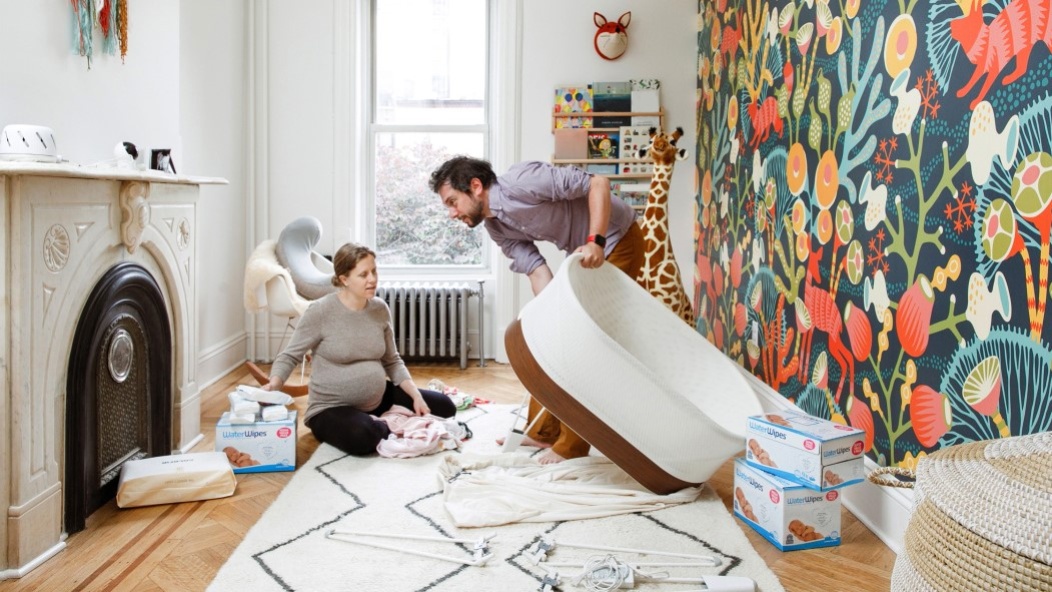 8. What shouldn't I put on my baby registry list?
Asking for lots of clothes in the size you assume your baby will be born at is not advisable. Babies are unpredictable and messy, and they also grow very quickly. Comfy onesies that can withstand multiple washes are the way to go.
Newborn shoes are another thing you might want to think twice about. While cute, your baby won't be walking for a good while yet, so will likely never wear them.
And although advice from other parents is invaluable when it comes to baby registries, it's still worth remembering that the products have to be right for you.
"I tried to register for gifts that would simplify being a mother but that I could also foresee myself using. For example, everyone recommended that I get a backpack diaper bag, but I've never carried a backpack since graduating high school…so I selected one that fit my needs and lifestyle.
"Every baby is different, so the swing that was a must-have for your friend's baby may not work as well for yours. If you can, try to borrow these types of items, until you figure out what works."
9. When should I make my baby registry public?
Gifts purchased via a baby registry tend to be given at the baby shower, so it's a good idea to have yours completed and ready to make public around the same time the invitations go out. You can continue adding items right up until the date of your shower and even after (for those who can't attend).
I started mine as soon as I discovered I was pregnant. I couldn't not, I was just too excited. The one we chose had a privacy setting – I think most do – so it meant we could keep it our little secret until we were ready to share the big news.
10. Can I still build a baby registry during the Covid-19 pandemic?
Yes, of course you can. The only difference really is that you might have to consider how you receive the gifts, as traditionally (as mentioned above), they're usually given in person at a baby shower. What lots of moms are doing at the moment is holding virtual showers and requesting gifts be sent to them directly instead.
Something else to keep in mind when choosing who to register with at this difficult time, is that people are more likely to browse and buy online at the moment, rather than visit a store in person.
You might also want to check the returns policies of the retailer/retailers you choose.
11. Are there any baby registry must haves?
According to the universal baby registry Babylist, in 2018 the average number of items their moms-to-be had on their lists was 121*.
While this huge figure might excite some, it will also fill others with horror. How can you possibly research that many items? More importantly, how can a tiny baby need so much stuff?
The answer is they don't. Most of the items on these lists will be nice to haves, rather than must haves. As long as you can tick off the below (which we've compiled with the help of real WaterWipes moms and dads), then you'll have everything you need to keep baby healthy and happy while you get to grips with the first few days and weeks of parenting.
Multiple diapers in different sizes: This will help you avoid late-night runs to the store.

Lots of baby wipes for sensitive skin: Remember to be specific about which ones (i.e. WaterWipes), so you don't end up with a six-month supply of a brand with unwanted ingredients.

Muslin swaddle blankets: These can be used for so many things, from mopping spillages to a light-weight breastfeeding cover up.

Diaper changing station: If your house has lots of floors, it's a good idea to ask for more than one of these. It will save you so many unnecessary trips up and down stairs.

Baby wearing wrap: For comfortably carrying baby.

Feeding utensils: Trust us, your little one is going to be hungry!

Onesies and bibs: You can never have too many of either of these, but remember to ask for onesies in a range of sizes.

Crib and mattress: For safe napping and sleeping.

Car seat: For safe traveling.

Baby stroller: Because fresh air is more important than ever at the moment.
The key thing to remember is that baby registries are for your benefit, as opposed to something else to worry about. Whatever you choose to buy or ask for is a personal choice, but as long as you have the basics listed above, you'll be fine.
For a more detailed rundown of baby essentials, read our newborn baby checklist.
If you feel a little less overwhelmed after reading our baby registry then why not check out our other reassuring articles on newborn baby sleep tips and swaddling your newborn for when your little one arrives.