Top tips for baby skincare from a Consultant Dermatologist
There's no manual when it comes to looking after babies or their precious skin, particularly if you're trying to be eco-conscious. So, if you're wondering where to start, what products to use and what to avoid, you're certainly not alone. In this article Cairine Wilkinson, consultant dermatologist and mum of 2 young girls, explains why babies' skin is so sensitive and offers her top tips for baby skincare, whilst still being mindful of the environment.
What makes baby's skin unique and how can you best protect it?
There's nothing quite like a newborn baby's skin, but it's extremely delicate and sensitive, so must be treated with great care. People often forget that the skin is an organ. In fact, it is the largest organ in the body and has three main layers – the epidermis, dermis and subcutaneous layer.1 The outermost layer of the epidermis is the stratum corneum which acts as a protective barrier against micro-organisms, chemicals and allergens, particularly for babies.
At birth, the epidermis is 20% thinner and the stratum corneum is 30% thinner than adults, which means a baby's skin is more sensitive and can be vulnerable to allergens, irritation and infection. It is also less firmly attached to other deeper layers of skin, so has a higher tendency to lose moisture. It's important to bear this in mind when thinking about how to protect and care for your baby's skin.
One of the best ways you can do this, whilst still being mindful of the environment, is not to use water unnecessarily. When it comes to baby bath time, try to keep it less than five minutes, two to three times a week, as this is kinder on baby's skin and much more eco-friendly. Bathing your baby every day can dry out their skin, so to help keep them fresh in between baths, you can top and tail your little one using WaterWipes 100% biodegradable* wipes.
Ingredients to watch out for in baby wipes and products
Given that their skin is so delicate, I would advise parents when considering methods of baby skincare and cleansing, to use products that are specifically designed for babies, such as fragrance and alcohol-free moisturisers and wipes. In general, less is always more when it comes to baby skincare and products, so always check the number of ingredients listed on the pack.
Some baby wipes and products contain multiple ingredients such as soaps and cleansers, to help preserve the product, or added fragrances which may not be necessary. These can irritate babies' skin, particularly those susceptible to nappy rash or with eczema-prone skin.
When washing your baby's clothes, use laundry detergents that are also free from fragrances and dyes, and to be a little kinder on the environment, try using a lower heat and shorter duration on the washing machine too! If being extra mindful, baby clothes made of organic cotton are best to buy as the fabrics are exposed to less pesticides during growth and manufacturing!
Eco-friendly baby wipes and which ones are best to use?
Faced with a huge range of baby skincare and cleansing products, it's not unusual for parents to become overwhelmed about which are best for baby and the planet, particularly when it comes to baby wipes. There is a lot of confusing language out there, with many wipes marketing themselves as 'pure' when they can contain over seven ingredients, some of which may be drying for baby's skin. It can also be tempting for parents to go for the most advertised products or sometimes the lowest priced option.
It's always important, however, to take some time to check the ingredients and explore the wipes eco-credentials, to ensure the baby wipes you are buying are gentle on your baby's skin as well as the environment.
Choosing baby wipes with minimal ingredients, such as WaterWipes, which contain 99.9% water and a drop of fruit extract, and are also 100% biodegradable, vegan, cruelty free and compostable* baby wipes, are a great option!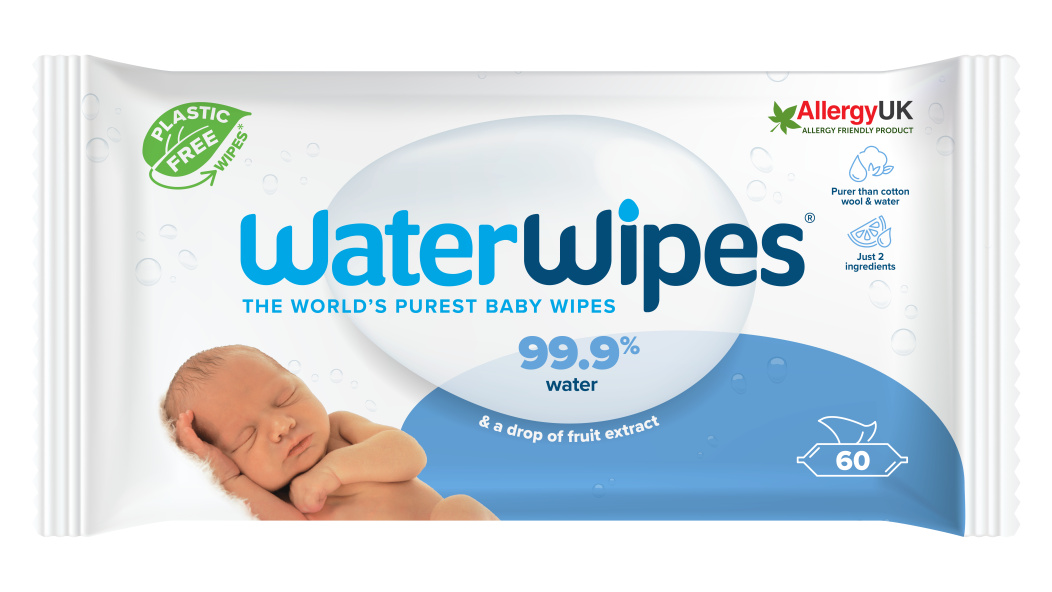 Are WaterWipes biodegradable and still purer than cotton wool and water?
When it comes to environmentally-friendly baby wipes and products, there can be a lot of confusion, pressure and judgement with all the eco-terms out there. To help with this, WaterWipes have created an eco-jargon dictionary to help parents feel less overwhelmed by eco-terminology and to make more informed choices.
An example of this, is the term 'biodegradable', which causes a lot of confusion, with 27% of UK parents admitting to not truly understanding what it means, and 17% assuming it means the product has 'fewer ingredients'**. Biodegradable actually means 'a material that can be broken down with the help of micro-organisms, returning the materials to the natural environment, without leaving plastic waste behind.
WaterWipes are made with only two ingredients (99.9% water and a drop of fruit extract) and are now 100% biodegradable, plant-based and compostable* wipes. They are still purer than cotton wool and water, meaning parents no longer need to compromise on purity and doing what's best for our planet.
About WaterWipes
WaterWipes are made with 99.9% water and a drop of fruit extract and they are proven to be purer than cotton wool and water. WaterWipes and are now 100% biodegradable, plant-based and compostable* wipes. For more information on WaterWipes, please visit the WaterWipes homepage.