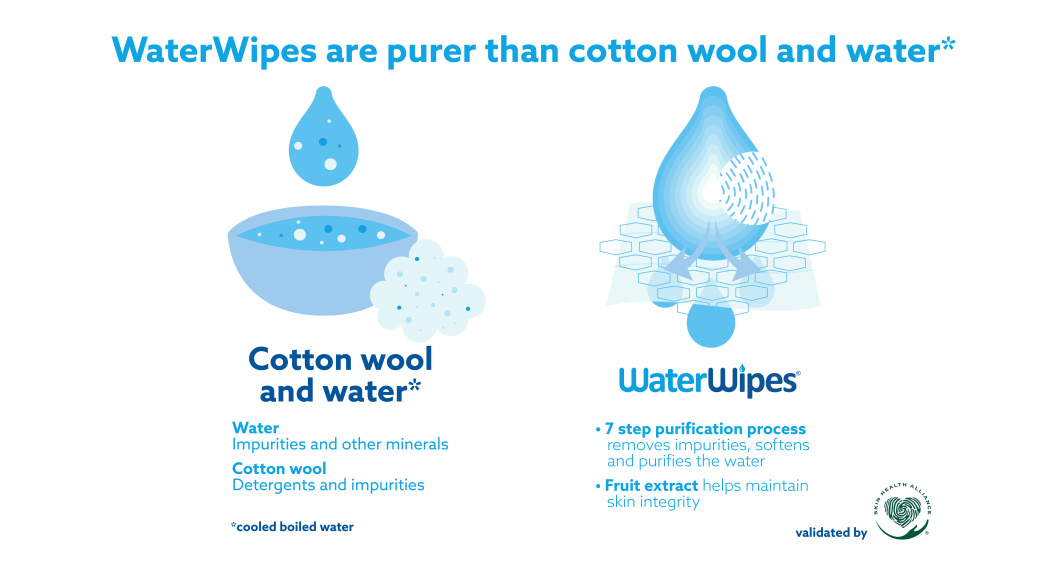 The Skin Health Alliance has drawn this conclusion from the following findings:
There are many similarities between the use of wipes versus cotton wool and water. The literature supports wipes as being gentler on the skin1,2

Although water and cotton wool are perceived to be 'pure', particulates, impurities and other minerals in both the cotton material and the water, even if boiled, can be found

WaterWipes demonstrated good antimicrobial effectiveness against bacteria and mould

WaterWipes scored highly across a number of healthcare professional and midwife quantitative studies for purity3
James Stalley, Associate Research Director, Skin Health Alliance comments: "Whilst cotton wool and water is a suitable method for cleaning babies during nappy changes, the Skin Health Alliance has concluded that WaterWipes baby wipes are a purer method of cleaning for parents looking for an alternative solution."
What makes WaterWipes purer than cotton wool and water?
WaterWipes are manufactured under clean room conditions using a unique purifying technology. The water passes through a seven-step purification process that uses a series of filters to remove physical and chemical impurities, soften and purify the water. This purifying process makes the water in WaterWipes significantly purer than cooled boiled water and produces a unique product that effectively cleanses the skin, without the need for several additional cleansing ingredients. Additionally, the wipe material undergoes a decontamination process, which combined with the formulation results in a fresh, pure product that is stable for 20 months unopened or four weeks after opening. WaterWipes also undergo stringent quality checks ensuring the product is of the highest standard and free from contamination before, during and after production.
While cotton wool is clean, it is not entirely free from contamination. If the same piece of cotton wool is dipped in water more than once there is a risk of contaminating the water. Hands can also contaminate the water if they are dipped in it numerous times for each new piece of cotton wool. Furthermore, cotton wool undergoes a complex series of manufacturing stages whereby it is processed with various chemical detergents to clean and remove impurities. Boiled or regular tap water is also not always free from physical impurities such as dirt, dust and mud and never completely free from chemical impurities such as lead, arsenic, and magnesium salts.
In March 2020, the full range of WaterWipes was awarded accreditation from the Skin Health Alliance. The accreditation process involves the Skin Health Alliance conducting an independent review of products in order to support the safety and efficacy of the products. The Skin Health Alliance is a leading international skin health organisation working closely with dermatologists, scientists and the skin care industry with a common interest in the promotion of healthy skin.