Understanding common neonatal and infant skin concerns
A newborn's skin may exhibit a variety of changes during the first months of life such as eczema, nappy rash or cradle cap. While these are common ailments, these skin changes can be concerning to parents and may result in visits to a healthcare professional or questions being raised during routine examinations.
Outlined below is information about some of the most typical baby skin concerns alongside treatment advice from Consultant Dermatologist, Dr Cairine Wilkinson.
Acne neonatorum (Baby acne)
Acne neonatorum (Baby acne) is acne that develops on a newborn's skin and is typically characterised by small red or white bumps that develop within the first two to four weeks after birth.1,2 It can occur anywhere on the face, but usually appears on the cheeks, nose and forehead. Acne neonatorum is temporary and usually clears up on its own within three to four months.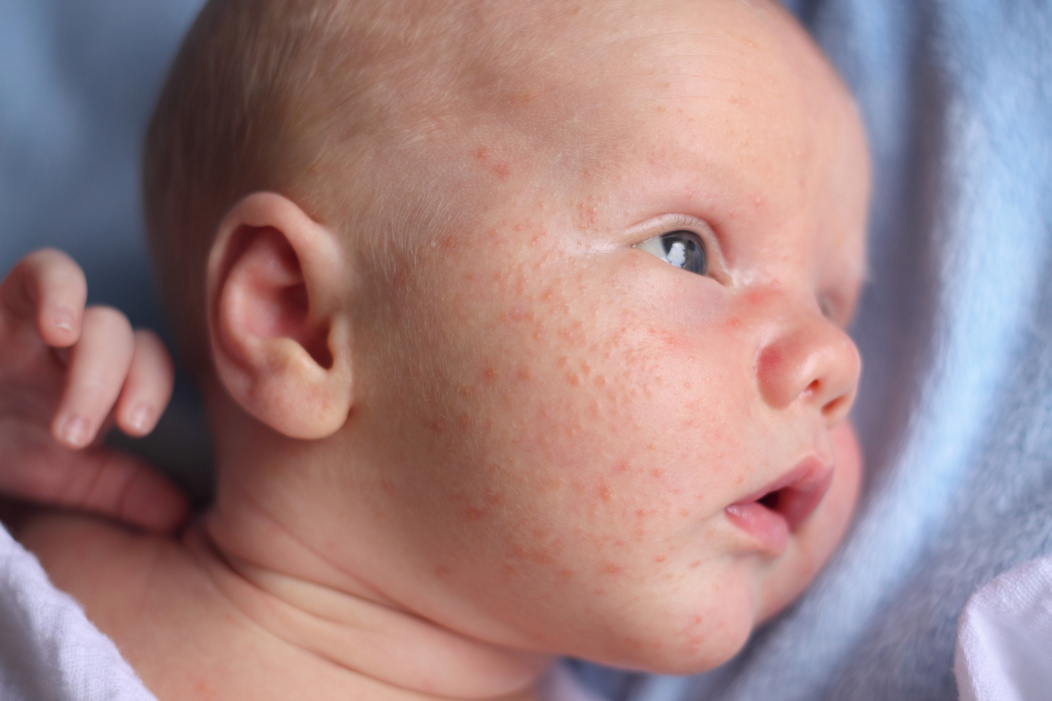 Treatment
Parents should be advised to cleanse the area with warm water two or three times a day, gently patting the skin dry. Acne should not be squeezed or picked at and soap or lotions should not be used on affected areas. If the problem persists, prescription or over-the-counter medication should be considered.
Seborrrheic dermatitis (Cradle cap)
Seborrheic dermatitis (cradle cap) is characterised by patches of greasy and yellow crusts or scales, which can flake and make the skin look red.2,3,4 Although it appears predominantly on the scalp, it can appear on other parts of the body, such as the eyebrows, ears, neck, nose, or nappy area.2,3
The causes of seborrheic dermatitis are unclear and although some parents feel cradle cap is unsightly, it does not cause any itchiness or pain to the baby and is not contagious.3 It usually clears up on its own within a few months.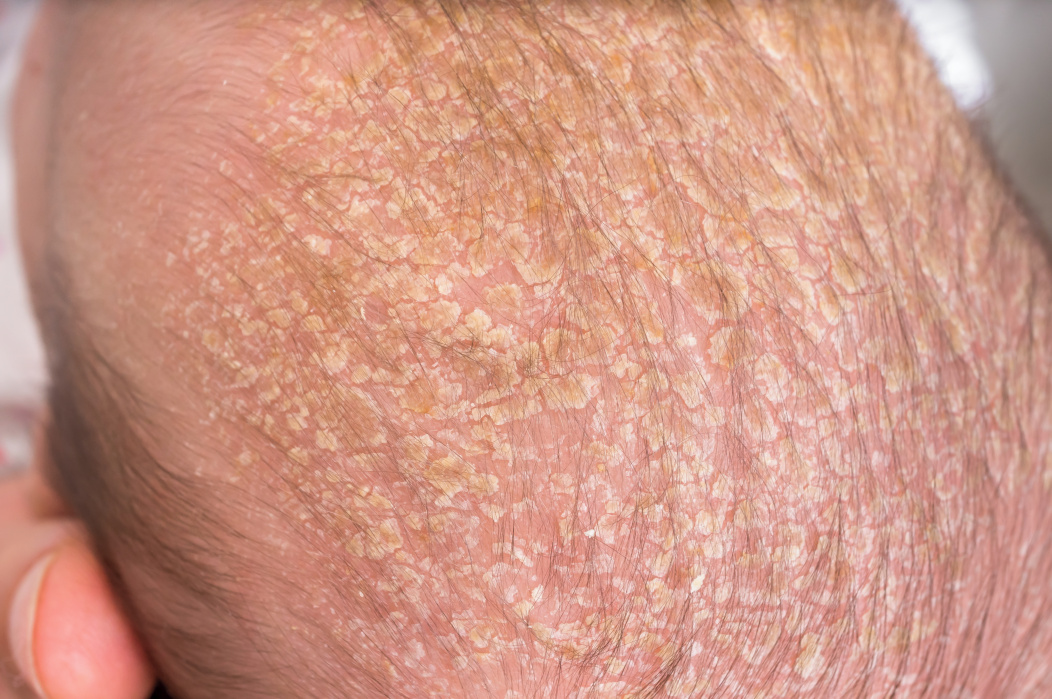 Treatment
Management of seborrheic dermatitis usually consists of parental reassurance and observation, but baby wash and natural oil (e.g. vegetable oil) can be used to soften the skin scales. Parents should be advised not to pick at any flakes of skin as this can lead to infection.4 Medicated products should not be used on broken skin, as this can cause irritation.
Dry Skin
The epidermis in babies is 20% thinner and the stratum corneum is 30% thinner than that of an adult5, which increases susceptibility to permeability and dryness.6 From birth, barrier function and the water handling properties of the stratum corneum are continually optimising and the properties that make infant skin unique are thought to persist at least through the first 12 months of life.7 Dry patches of skin can often appear, but this does not mean a baby has eczema.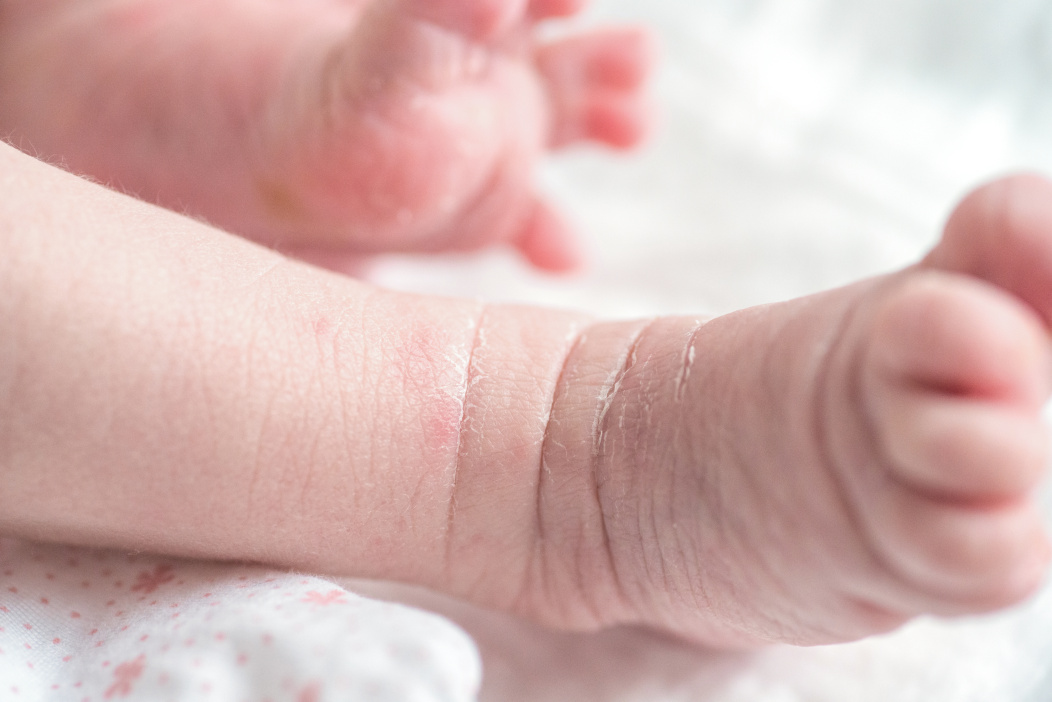 Treatment
Newborns do not need to be bathed every day. Three times a week should be enough until babies becomes more mobile.8 Always avoid soap products that lather when bathing babies, as these can include ingredients which can be harmful to babies' skin.
An emollient cream should be applied all over baby's body as often as needed to prevent dry skin from forming. If parents are using wipes on their baby's skin, they should be advised to use fragrance-free and alcohol-free baby wipes that do not contain unnecessary ingredients. WaterWipes and WaterWipes for Weaning are the world's purest baby wipes and provide gentle but effective cleansing for babies and toddlers' skin. Make sure the baby's skin is completely dry before applying an emollient.
Atopic eczema/dermatitis
Babies often get eczema, symptoms of which are patches of red, dry and itchy skin on the face or behind the ears, and in the creases of the neck, knees and elbows.9
The exact cause of eczema is not known. In some cases it may be inherited, and in others it can be triggered by an allergy or sensitivity.10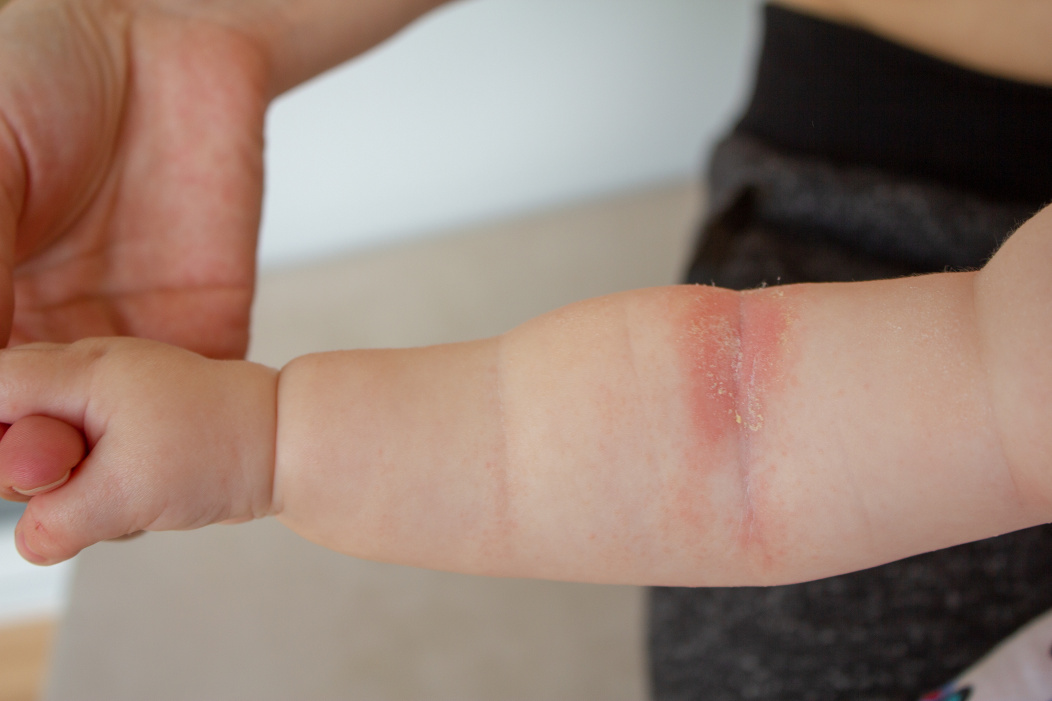 Treatment
Emollients are recommended for daily use on dry skin – including bath soap substitutes that are free of sodium lauryl sulphate. Topical corticosteroids can also be used during flare-ups. Parents should also be advised to try and encourage their child not to scratch and help them avoid triggers. If using wipes, fragrance-free and alcohol-free baby wipes should be used4
If the skin is cracked, the eczema is worsening or very red and weepy with small blisters, this could signal an infection that will require further treatment.4
Neonatal milia
Tiny pearly-white bumps consisting of small harmless cysts may present just under the surface of the skin, affecting 40-50% of newborns.11 Often located on the nose, but may also arise inside the mouth, or more widely on scalp, face and upper trunk.12 Although milia is common in newborns, it can occur at any age.6,13 It develops when tiny skin flakes become trapped in small pockets near the surface of the skin.6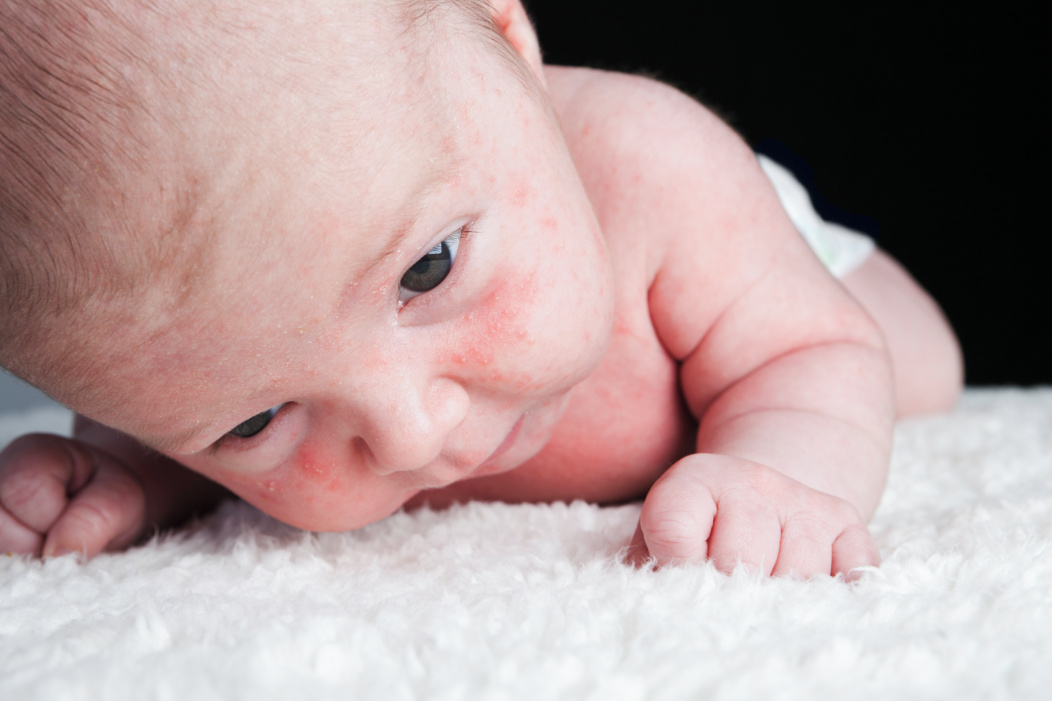 Treatment
Lesions will heal spontaneously within a few weeks or months.12
Nappy Rash
Up to a third of babies and toddlers in nappies have nappy rash at any one time.14 Nappy rash can occur due to prolonged exposure to urine or faeces, but can also result from the use of soap, detergent, bubble bath, or alcohol-based baby wipes.7 Recent antibiotic treatment can also be a trigger.
Nappy rash is characterised by red patches on a baby's bottom, or the whole area may be red. The skin may look sore and feel hot to touch, and there may be spots, pimples or blisters.7,4
Treatment

Care of the nappy area should include cleaning whenever the nappy is soiled, and the use of good quality super-absorbent nappies. If wipes are used, fragrance-free and alcohol-free baby wipes should be chosen. WaterWipes and WaterWipes for Weaning are the world's purest baby wipes and provide gentle but effective cleansing for the skin of babies and toddlers.
Nappy rash can be managed with the use of barrier creams to prevent problems occurring in the first place or medicated creams for clearing up any symptoms and offering relief.4 If symptoms persist, there is a chance of a secondary fungal/ bacterial infection, which would need antibiotic treatment4, make sure the baby's skin is completely dry before applying an emollient.