The infant skin barrier
The skin is the body's largest organ and one that continues developing after birth.1 It has three primary functions: protection, regulation and sensation, and consists of three main layers – the epidermis, dermis and subcutaneous fatty tissue.
Protection is a key function of the mature skin barrier; it acts as a defense against allergens, infections and irritants. The epidermis in babies is 20% thinner and the stratum corneum is 30% thinner than that of an adult, which increases susceptibility to permeability and dryness.
It is important to advise parents of the need to choose the correct types of products and ingredients for use on the skin of babies to minimize skin conditions such as eczema, and preserve the skin barrier function.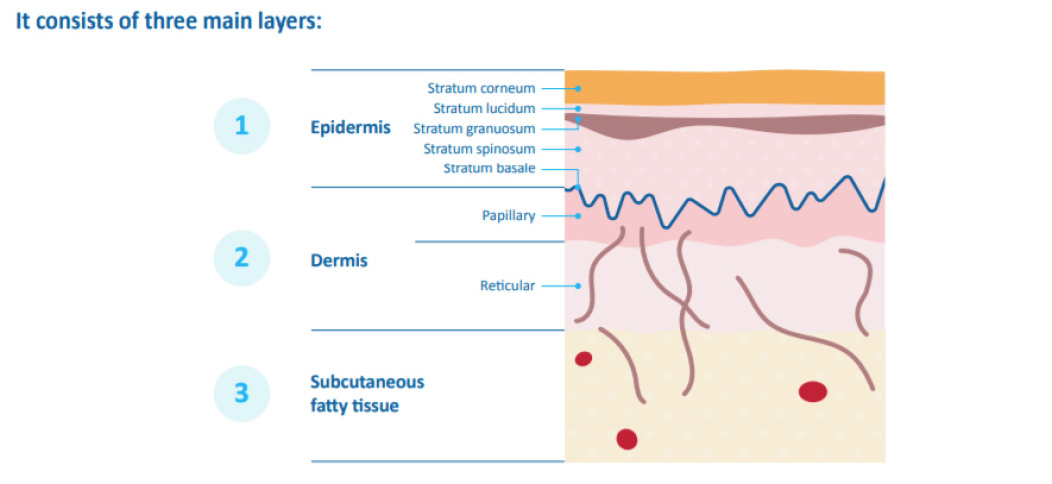 Baby's skin microbiome
Baby's skin evolves and develops a lot over the first 12 months of their life. The stratum corneum thickens, the pH stabilizes, barrier function and water-handling become more effective and baby's microbiome and microflora matures. 5
The skin microbiome is a whole community of organisms that live on the skin, and help protect the skin, helping create skin nutrients, and playing an important role in protecting against disease. 6
Encouraging baby's skin microbiome in the first year of life can help optimize their health. As the microbiome is delicate and can be sensitive to change, it is important that parents look after the skin in a way that won't disrupt this delicate balance, and that preserves and promotes the natural development of the infant skin microbiome. This will help optimize baby's health through infancy and into childhood.7
Benefits of the Vernix Caseosa
A newborn will be born with a white, cheese-like substance coating the baby's skin. This is the vernix caseosa, a naturally occurring barrier film that is produced from 20 weeks gestation, which acts as a protective layer on baby's skin while in the womb; traces of the substance appear on baby's skin after birth.8 The amount of vernix caseosa on baby's skin decreases the closer it gets to mothers' due date. Delivering past the due date may result in less of a coating, while premature babies tend to have more vernix caseosa.9
The vernix caseosa has multiple, positive biological functions which benefit newborn skin, including: moisturising, anti-infective, antioxidant, and waterproofing properties.8 Its primary purpose is to protect baby's skin by helping it retain moisture and contributes to babies having soft skin after birth.`10
Explaining to parents the role of the vernix caseosa will ensure they are informed as to its benefits. Parents should be advised to leave the vernix caseosa on the skin so that it can absorb naturally, at least for six hours but preferably for 24 hours in line with World Health Organization guidelines, enabling baby to maximize its health benefits.11
Bathing, cleansing and washing
Many parents may be daunted at the prospect of giving their newborn baby a bath for the first time.
Reassuring parents as to how to properly bathe their newborn and explaining the role of the vernix caseosa so that they may choose to delay their baby's first bath will help with their decision. Parents do not need to bathe their baby every day, and they may prefer to wash their face, neck, hands and bottom carefully instead; "topping and tailing".12 For a newborn, giving a baby a bath two or three times a week is probably enough, as not bathing a baby so regularly will ensure that their skin does not dry out. 13
The only cleansing agents recommended are mild, non-perfumed soap-free liquid cleansers, which are preferable to soaps. Ideally, these should be formulated so that they do not alter the skins natural pH, cause skin irritation, or irritate or sting eyes.
Once parents leave the hospital, they may find it time-consuming and sometimes difficult to always use cotton wool and water, especially when out and about. With this in mind, parents should be advised if they choose wipes for cleaning the diaper area, they should check ingredients and avoid potentially harsh products.
Parents should be advised that they could use a gentle and non-medicated baby wipe to clean babies' skin once they are at least 4 weeks old. WaterWipes are a good non-medicated wipe option as they contain minimal ingredients, are made from 99.9% high purity water and a drop of Fruit Extract. WaterWipes are the world's purest baby wipes and have been specifically developed to be as mild and pure as cotton wool and water, and provide safe cleansing for the most delicate newborn skin and are so gentle they can also be used on premature babies.
Care of the umbilical cord
When a baby comes home for the first time, they will still have their umbilical cord stump. This will fall off between 10 days and three weeks, so parents should sponge bath or use cooled, boiled cotton wool and water on their baby to avoid getting the cord stump too wet.
Parents should be advised on how to keep the umbilical cord clean and dry, and that antiseptics should be used routinely. In 2014, a Cochrane review, looked at topical umbilical cord care at birth and concluded antiseptics or antibiotics had no advantage over keeping the cord stump clean and dry.14
Infants have vulnerable and fragile skin due to immature skin barriers. Therefore, understanding how to care for infant skin is an important aspect of parenting, which should be supported by practical advice from health care professionals. This enables parents to have the knowledge and confidence, and make the best choices for their baby.