A study commissioned by the Royal College of Surgeons in Ireland (RCSI) has found that a 'care bundle', including WaterWipes, reduces the incidence of Facial Pressure Injuries (FPIs) in frontline COVID-19 healthcare workers caused by the prolonged wearing of Personal Protective Equipment (PPE).
The study which was carried out independently and led by researchers from RCSI University of Medicine and Health Sciences Skin Wounds and Trauma (SWaT) Research Centre, took place over a two-month period amongst healthcare workers in a large acute hospital in Ireland. Published in the Journal of Wound Care, the study of 300 frontline staff examined the effect of WaterWipes (in combination with a moisturiser and tape) on PPE skin damage and the occurrence of FPIs.
Results showed that prior to using the care bundle, 29% of respondents developed an FPI, whereas after using the care bundle only 8% of respondents developed such an injury. The analysis revealed that when using the care bundle, staff were almost five times less likely to develop an FPI. In a secondary finding, respondents reported the bundle as easy to use, gentle and effective.
WaterWipes uses ultrapure water
The RCSI chose WaterWipes as they wanted to include a gentle and pure wipe for the staff to clean their faces with – both before they applied their PPE and after it was removed. The RCSI independently identified the purity of WaterWipes through staff recommendations.
WaterWipes are purer than cotton wool and water and are manufactured under clean room conditions, using a unique purifying technology. This means the water passes through a seven-step purification process to remove physical and chemical impurities, soften and purify the water. The water in the wipes helps cleanse the skin, without the need for additional cleansing ingredients, and without leaving any residue behind. Additionally, WaterWipes' wipe material undergoes a decontamination process, which results in a fresh, pure product that is stable for 20 months unopened or four weeks after opening.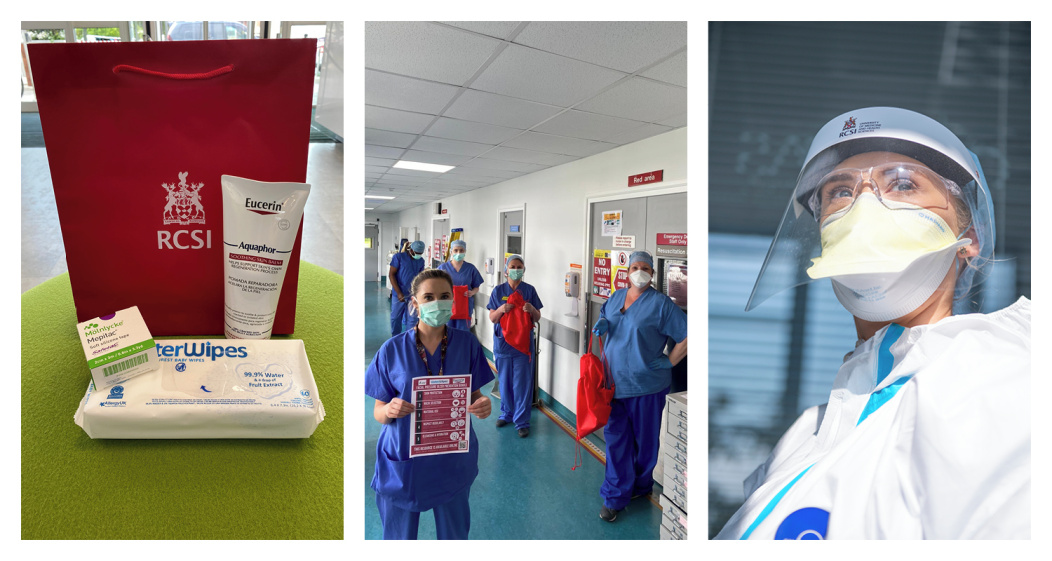 Dedicated to supporting healthcare heroes
WaterWipes is dedicated to recognising the incredible work healthcare heroes have done over the course of the COVID-19 pandemic, and beyond.
We are really proud to have been part of this study to support frontline workers during these difficult times and delighted to confirm that the use of WaterWipes® helped reduce the occurrence of Facial Pressure Injuries. At WaterWipes®, we have a strong medical heritage and we are dedicated to investing in new research and development to support healthcare professionals around the world.

Edward McCloskey, WaterWipes® founder
The RCSI University of Medicine and Health Sciences
Professor Zena Moore, SWaT Researcher Centre Director and Head of the RCSI School of Nursing and Midwifery, was lead researcher on the study.
We are acutely aware of the facial injuries, such as pressure ulcers, bruises and skin tears that healthcare workers are experiencing due to the prolonged wearing of protective equipment during the pandemic and especially the wearing of medical face masks. These injuries can be painful for staff and injuries in some cases can put them at increased risk of infection. This study is the first of its kind carried out at the height of the pandemic in an effort to help mitigate the occurrence of Facial Pressure Injuries. The results tell us that when skincare is prioritised, and a systematic preventative care bundle approach is adopted, there are clear benefits for the frontline workers and the workplaces involved.

Professor Zena Moore
About Professor Zena Moore:
Prof Zena Moore is a Chair in Nursing at the RCSI, University of Medicine and Health Science. She is a registered nurse, who holds a PhD, a FFNMRCSI, an MSc in Wound Healing & Tissue Repair, an MSc in Leadership in Education, a PGDip in Wound Healing & Tissue Repair and a Diploma in Management. She is also the Head of the School of Nursing & Midwifery and is Director of the Skin Wounds, and Trauma (SWaT) Research Centre at RCSI.
Zena's key area of research interest is Wound Healing & Tissue Repair and she has published over 210 articles, guidelines, consensus documents and book chapters in this field. Professor Zena Moore presented her research and outcomes at the 40th Annual International Nursing & Midwifery Research & Education Conference 2021 and her presentation can be viewed below / here