This includes the following products:
WaterWipes Original

WaterWipes Adult Care Sensitive

WaterWipes for Weaning

WaterWipes Facial Wipes
The Skin Health Alliance is a leading international skin health organisation working closely with dermatologists, scientists and the skin care industry with a common interest in the promotion of healthy skin.
What does accreditation from the Skin Health Alliance involve?
The accreditation process involves the Skin Health Alliance conducting an independent review of products in order to verify them to be skin safe. This includes a scientific review performed by a team of independent dermatologists.
The review committee conducts an appraisal of the submitted scientific report, along with an examination of user and clinical trial data, to support the safety and efficacy of the product. The 'Dermatologically Accredited' mark therefore acts as an independent assurance that products have met a standardised set of safety requirements.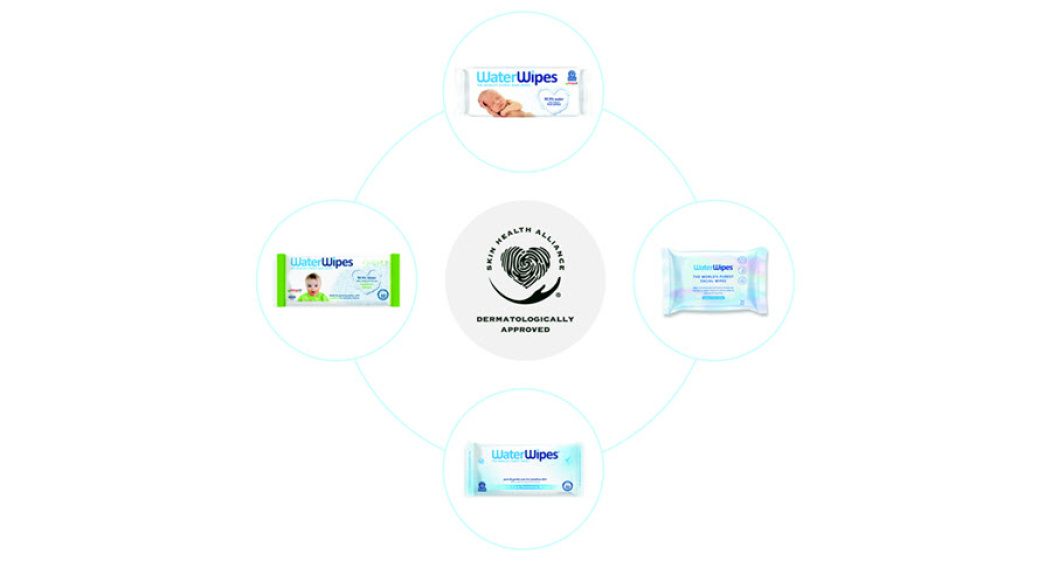 Why is accreditation important?
While many products have been dermatologically tested by manufacturers or checked for the suitability for skin sensitivity and allergies, often these labels haven't been verified by an independent association or don't have the backing of specialist dermatologists.
Independent dermatological associations, such as the Skin Health Alliance, provide clarity to health professionals and consumers to verify the suitability and safety of skincare products.
That's why we're proud to be accredited by the Skin Health Alliance, adding to the numerous global accreditations WaterWipes has received.
What makes WaterWipes different?
WaterWipes have been specifically developed to be as mild and pure as cotton wool and water, to help maintain the important skin barrier function of the stratum corneum, while offering the convenience of a wipe.
WaterWipes are manufactured under clean room conditions using a unique purifying technology. The water passes through a seven-step purification process that uses a series of filters to remove impurities, soften and purify the water. This purifying technology produces a unique product that effectively cleanses the skin, without the need for several additional cleansing ingredients.
Other accreditations, sponsorships, endorsements and registrations
In addition to the Skin Health Alliance Accreditation, WaterWipes baby wipes have secured numerous additional global accreditations, sponsorships, endorsements and registrations, including:
Allergy UK

The National Eczema Association of America (NEA)

The French Association for the Prevention of Allergies (Association Française pour la Prévention des Allergies – AFPRAL)

Eczema Association of Australasia (EAA) sponsorship

The Vegan Society