The Baby Skin Integrity Survey (BaSICS) study is the first research of its kind to reveal that different formulations of baby wipes can impact the skin integrity of newborns. The study of 698 mothers, showed babies cleansed with WaterWipes (brand three in the study; with the fewest ingredients) are less likely to get moderate to severe nappy rash, and if they do, it lasts fewer days compared to other leading brands. The other brands in the study are marketed as mild and gentle enough for newborn skin but contain additional ingredients compared to WaterWipes.
The clinical study, which has been published in Pediatrics and Neonatology was conducted by the University of Salford in Greater Manchester (UK)
Lower incidence and shorter duration of nappy rash with WaterWipes
The innovative midwifery-led 'real-world' study compares incidence and duration of nappy rash on infants with different leading brands of baby wipes. The study showed that mothers using WaterWipes on their babies' skin had a lower incidence of nappy rash (19%), compared to those cleansed with brand one (25%) or brand two (30%). For each day of nappy rash experienced by the WaterWipes babies, the rash would have lasted approximately 50% longer had mothers used the other brands - 1.69 days with brand two (p<0.001) and 1.48 days with brand one (p=0.002).
"The BaSICS study is the first research indicating that a baby wipe product may be a determinant of infant skin integrity in the first eight-weeks of life," says Professor Penny Cook, Professor in Public Health from the University of Salford. "These findings indicate that the baby wipe with the fewest ingredients has the lowest incidence and shortest duration of moderate nappy rash*."
Experimental study design
The mothers who completed the study were divided into three groups. Each group was allocated at random a different brand of baby wipe marketed as mild and gentle enough for newborn skin. All mothers received the same brand of disposable nappies and researchers involved in the analysis of the data were blind to the baby wipe brand. Skin integrity was graded from one (no rash) to five (severe rash) and moderate to severe nappy rash was identified as three or above.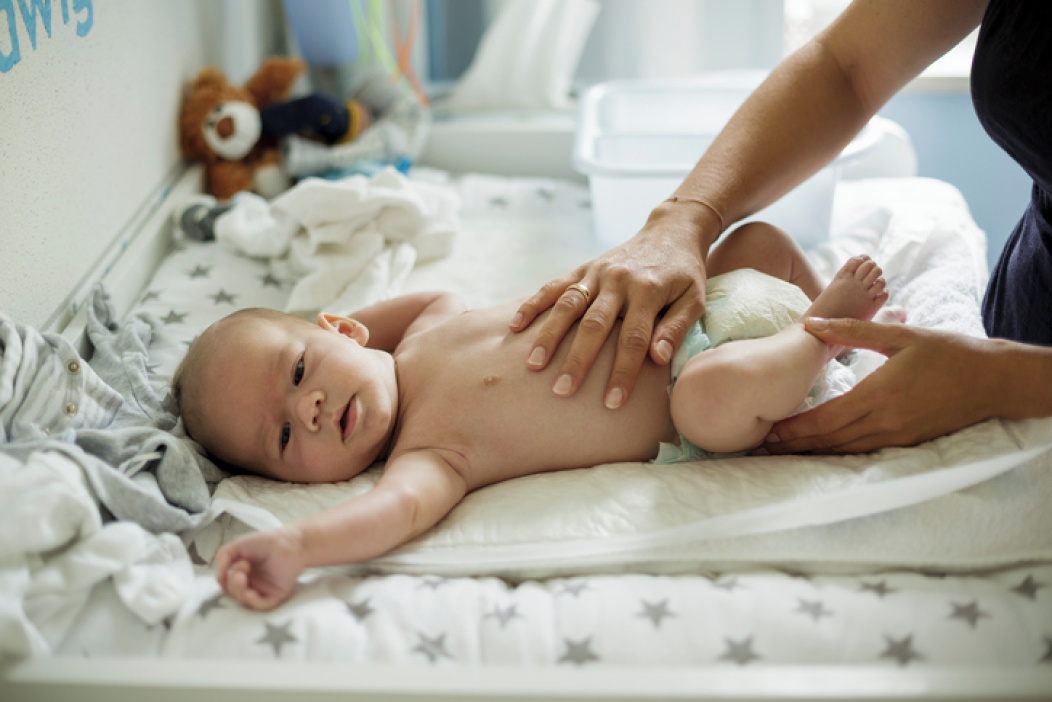 Most comprehensive study on young infants
"This real-world study utilised a prospective experimental design model of mothers as co-researchers," says Dr Fiona MacVane Phipps, Senior Research Fellow - Midwifery (now retired) from the University of Salford. "The mothers' observations were recorded, via a user-friendly App on their smartphone, enabling them to report nappy rash daily, using reference diagrams for the assessment of nappy rash on a five-point scale. This allowed mothers to reflect daily on their baby's skin condition and cleaning routines using real-time methods of data collection - known to be more accurate than retrospective methods. This resulted in a set of nappy rash data that, to our knowledge, is the most comprehensive to date for younger infants. The study had a 96.7% completion rate and robust sample size; with mothers from a diverse mix of ethnicities and socioeconomic backgrounds."
Safety and efficacy of wipes on newborn skin
Nappy rash is one of the most common skin complaints in infants. Healthcare professionals have historically recommended cloth and water or cotton wool and water for cleaning babies' newborn skin; however, recent studies highlight the safety and efficacy of using baby wipes to help decrease skin irritation,2,3 with parents reporting greater convenience over cotton wool and water.3
WaterWipes are gentle on the most sensitive skin
Containing just two ingredients, 99.9% high purity water and 0.1% fruit extract, WaterWipes are so gentle they can be used on premature babies' skin.
WaterWipes are manufactured under clean room conditions using a unique purifying technology. The water passes through a seven-step purification process that uses a series of filters to remove impurities, soften and purify the water. This purifying process makes the water significantly purer than cooled boiled water and produces a unique product that effectively cleanses the skin, without the need for several additional cleansing ingredients. The fruit extract acts as a gentle skin conditioner.
WaterWipes are purer than cotton wool and water
Following a review of scientific literature, a team of independent experts at the Skin Health Alliance has validated that WaterWipes are purer than cotton wool and water.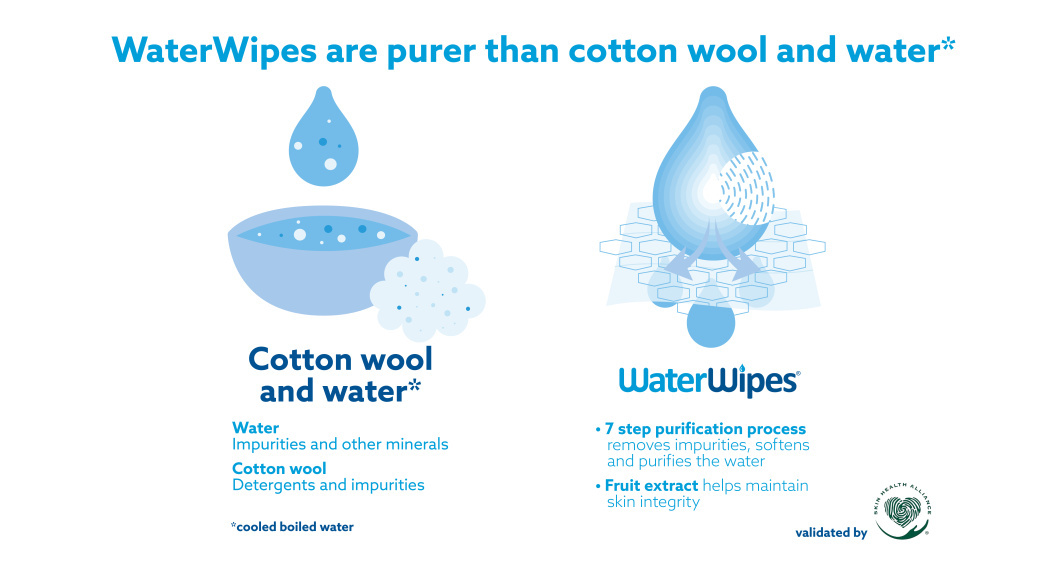 WaterWipes are recommended by midwives and other healthcare professionals worldwide and have become the preferred wipe for many Neonatal Intensive Care Units throughout the UK, Ireland, the US, Australia and New Zealand.
About BaSICS
The BaSICS study is a midwifery-led 'real world' research study utilising a prospective experimental design, delivered by the University of Salford. Recruitment of volunteers was conducted via antenatal clinics at three NHS Trusts across Greater Manchester in England. Previous studies established the safety and efficacy of baby wipes for cleansing during nappy changes and all studies compared cleansing with water to a single brand of baby wipe. The BaSICS proposed that the choice of wipe may affect the incidence and severity of nappy rash and therefore impact skin integrity.
737 women were enrolled in the study with 722 eligible at time of baby's birth. 698 women completed the study. This has resulted in a set of nappy rash data that the research team believe to be the most comprehensive to date for younger infants. Three types of data were collected: daily skin integrity survey for 55 days; long(er) final survey on day 56; semi-structured interviews with 5% of total sample at the end of the study. The "mother as co-researcher" model gave the mother full responsibility for observation, assessment and data collection. 100% compliance with using the observation tools and 98% fidelity was achieved using the allocated brand for the majority of days.
*Moderate to severe nappy rash